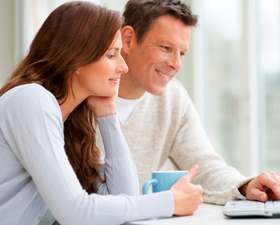 When you are trying to sell your house, it is very important to have it stand apart from all the other properties hat are available. Nearly 95% of all home buyers start their search on the internet, which is why I specialize in creating new and innovative ways to reach those people. Professional video is an extremely effective way to grab buyers' attention. You'll notice that this site is full of video content, and new videos are added all the time.

Buyers start their search on the internet because, in the early stages of their home search, they want to be anonymous. This can be both a good and a bad thing for Realtors who are marketing homes. It is good because oftentimes the buyers we work with are much more informed and educated than they were even 5 or 10 years ago. It can be bad because we lose out on that opportunity to converse with potential buyers in the early stages of their home search.


VIDEO AIDS COMMUNICATION
A professionally produced video that includes voice over narration is the perfect way to communicate with those 'anonymous' buyers who are browsing the internet. The goal is to give them enough reason to want to schedule an in-person showing of your house. Since the key to utilizing video on the internet is to communicate with viewers, the addition of a narrated audio track on your video is crucial to the success of the marketing effort. Studies have shown that viewers engage less with 'slideshow'-type videos when compared to fully produced narrative videos.
With Nodalview you get high quality immersive reality in 3D!
GOOD VIDEO VS BAD VIDEO
Many Real Estate Agents do not understand the benefits of using video as a marketing tool. Some will go as far as to create a slideshow of photos of your house and call that a video. The reality is…that's not a video. That's a slideshow. Our goal is to utilize video to
communicate
with those buyers, not just give them a different way to see the photos that are already on our website. An effective video starts out life as a script that is written to highlight the many features of your house. The visuals are then added to compliment that script.
WHY DON'T ALL AGENTS DO THIS? A$K THEM…
Most agents choose not to utilize video to market your house because it costs too much to produce. As a result, only the most expensive houses (that pay the highest commissions) tend to get the 'video treatment'. Video production companies charge close to $1,000 to create a fully narrated video. The cost to you with us is FREE. I include the same professional video for all my listings, regardless of the list price of the property.
GETTING IT DONE…QUICK
As Real Estate agents, we know that the most interest you will get about your house is in the first couple of weeks that it is on the market. It is CRUCIAL to grab buyers' attention while the listing is still fresh. As someone who is considering selling your house, you deserve an agent who is willing and capable to go the extra mile to get your house sold for the maximum dollar amount and in the least amount of time. Contact us today to discuss how professional video can get your house sold.